Win a prestigious car and a number of other prizes, participating in a profitable 1xSanta promotion from 1xBet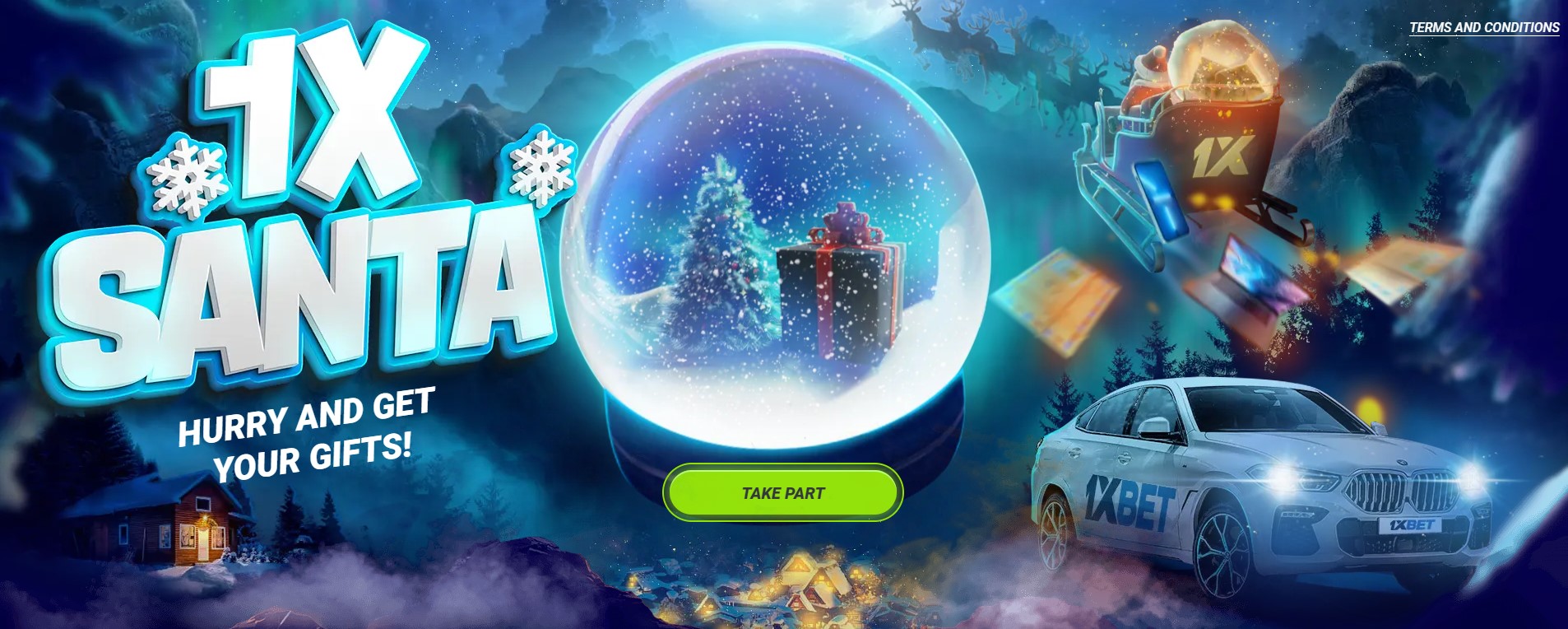 Before the New Year, the 1xBet betting company always organizes interesting drawings. However, this time it surpassed all expectations by launching a very profitable 1xSanta promotion. The requirements are minimal, but you can win modern gadgets, equipment, a lot of bonus points and BMW X6 car! The promotion started on December 17, 2021 and will last until January 10, 2022. There is not much time, but every registered customer has a chance to win.
| | | |
| --- | --- | --- |
| Name | Date of event | Prize fund |
| 1xSanta | 17.12.2021 — 10.01.2022 | Car, valuable prizes, promotional points |
The promotion is divided into two stages: the main and final drawings. In the first one, absolutely all clients of the company, who have earned promotion tickets, take part. Those bettors who have collected all the fragments of the car puzzle are allowed to the final drawing. The prizes are great, and dozens or even hundreds of participants in the promotion can get them.
The requirement is not complicated – you need to bet at odds of 1.6 on the amount of $5 or more. For this, the company provides the opportunity to shake the New Year's Ball, where you can immediately get such rewards:
a $10 freebet;
from 50 to 5,000 promotional points;
from 5 to 50 tickets to participate in the prize drawing;
a puzzle piece.
Don't hesitate and lose the chance to win cool prizes. The promotion is already taking place, but everyone has the opportunity to get great gifts. None of the prizes will need to wagering, which can be considered another significant advantage.
Registration bonus
What gifts are waiting for customers of 1xBet in the main prize drawing
The betting company decided to organize two drawings of valuable gifts at once. All registered customers who have earned promo tickets take part in the main draw. Their minimum number is 10. It is possible to get tickets for spinning a New Year's ball. An attempt is opened after making a bet of $5 or more. You can choose any sporting event from the line, and the minimum odds must be 1.6. The simplest conditions that all bettors can meet. The prizes are great – the prize fund consists of the best gadgets, equipment and an abundance of promo points.
| | |
| --- | --- |
| Places | Prizes |
| 1 | Apple MacBook Pro 16" (20 winners) |
| 2 | Apple iPhone 13 Pro Max (30) |
| 3 | Samsung Galaxy Z Fold 3 (30) |
| 4 | Apple iPhone 13 Pro (30) |
| 5 | Samsung Galaxy S21 Ultra (30) |
| 6 | Microsoft Xbox X 1TB (50) |
| 7 | PlayStation 5 (50) |
| 8 | Nintendo Switch (50) |
| 9 | Apple AirPods PRO (100) |
| 10 | Samsung Galaxy Buds 2 (100) |
There are so many gifts that are not too difficult to win by taking part in the lucrative 1xSanta promotion. It's worth starting betting now, shaking the New Year's Eve ball and hoping your luck will help you win the best prizes.
However, the rewards listed in the table are not all. Additionally, the bookmaker company will draw a lot of promotional points, such as:
100 lucky winners will win 5,000 points each;
500 — 1,000 and 2,000;
1000 — 200 and 500;
5000 — 100;
10000 — 50.
These are no less attractive rewards than valuable gifts. You can buy a lot of different special bonuses for promo points in the "Promo Code Showcase". The number of gifts here is not limited. Therefore, if you get 5000 promo points, you can stock up on free bets and other rewards for a long time.
Registration bonus
Win a BMW X6 in the final prize drawing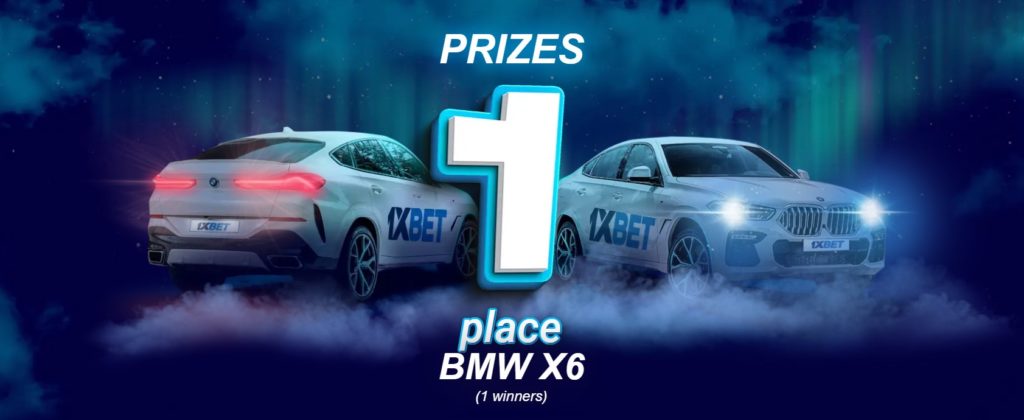 In addition to the many valuable prizes in the main drawing, you can win just as much in the final one. The main condition is that all pieces of the car puzzle must be collected. Only if this requirement is met the client can take part in the drawing of BMW X6 and other prizes. The principle of betting is the same – $5+ on any sporting event at odds of 1.6+.
| | |
| --- | --- |
| Places | Prizes |
| 1 | BMW X6 (1 winner) |
| 2 | Apple MacBook Pro 13" (30) |
| 3 | Apple iPhone 13 Pro Max (30) |
| 4 | Apple iPad Pro 12'9 (30) |
| 5 | Apple iPhone 13 Pro (30) |
| 6 | Samsung Galaxy S21 Ultra (50) |
| 7 | Samsung Galaxy Tab S7+ (50) |
| 8 | Samsung Galaxy Z Flip (50) |
| 9 | Apple Watch 7 45 mm (100) |
| 10 | Samsung Galaxy Watch 4 Classic (100) |
Additionally, there will be a lottery for promotional points. They won't interfere in an active betting career, even on the contrary, they will help make your predictions more profitable or risk-free.
The number of promo points will be the same as for the main draw. However, it's worth mentioning the distribution once again:
100 winners will be able to win 5,000 points each;
500 — 1,000 and 2,000;
1000 — 200 and 500;
5000 — 100;
10000 — 50.
These are wonderful gifts that really deserve attention. Even if you're not lucky enough to win valuable prizes, promo points will be the perfect help for active betting.
Conditions and requirements for participants in the 1xSanta promotion from 1xBet
To participate in the promotion, you need to be a registered client of the betting company. You will also need to meet the following requirements:
top up the balance in any convenient way;
fill in the questionnaire in the personal cabinet;
confirm the email address and mobile number;
go to the special page of the promotion and click on "Take part".
All the rules of the betting company also apply, which you can read individually by visiting the general section at the bottom of the site.
It is not a problem if you do not have an account! New customers can also get a lucrative welcome bonus. It will allow them to start earning in a proven bookmaker's office with maximum confidence. Click here to find out how you can get our unique starter gift. Instead of $100, you can earn as much as $130. Wagering terms don't get any harder, which can be considered a big advantage.
In order to get an increased welcome gift you just need to click on our link. After that, the system will redirect you to the site of the betting company with a promo code already entered. It is enough to complete the registration procedure and top up your balance for the gift to appear on your bonus account.
The "1xSanta" promotion has already started, there is not much time before it ends. Don't hesitate, take part and earn valuable prizes. Who knows, maybe you'll be lucky enough to win a premium BMW X6!