Cyberbonus calendar from 1xBet – new gifts are offered every day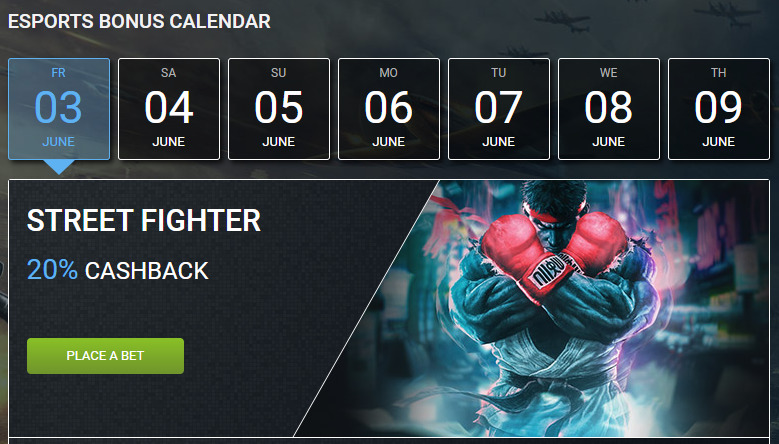 Proven bookmaker 1xBet offers its customers to earn not only by successfully made bets, but also by an elaborate loyalty program. Everyone can enjoy its benefits. All you need to do is register on the bookmaker's website, make a deposit and follow the special offers. They appear regularly.
The company has created favorable conditions for players. Not only new customers, but also long-registered users can get bonuses here. There is even a calendar of promotions especially for them, keeping an eye on which, it is possible not to miss the most profitable offers for you.
| | | |
| --- | --- | --- |
| Date of promotion | Game | Cashback size |
| 03.06.2022 | STREET FIGHTER | 20 % |
| 04.06.2022 | League of Legends | 10 % |
| 05.06.2022 | Cyber Lacrosse | 20 % |
| 06.06.2022 | QUAKE | 10 % |
| 07.06.2022 | STEEP | 10 % |
| 08.06.2022 | Esports Floorball | 20 % |
| 09.06.2022 | TEKKEN | 20 % |
Don't miss out on such offers, and the bets will become even more profitable for you. Competitions are held with enviable regularity. As a rule, predictions are accepted on popular variants of outcomes of matches. For example, in Lacrosse, it is a bet on the winner of the match, the presence of extra time, markets.
The cybersport matches are usually very dynamic. This means that you can make a lot of bets during the day. Don't miss this opportunity, because there is always a chance to win. If you find yourself among the winners, the bookmaker will definitely reward you.
Cashback is credited to an additional account. Yes, you can not just take the money from there. But it is possible to use this money for new bets. Make predictions, follow the most active cyber sports competitions, and the bonus will be credited to your balance. By the way, it is easy to control its status through a personal cabinet. The data on assets is updated in real time there.
The cyber bonus calendar is a selection of offers for every day. Follow them, make bets on events that are specially marked, and you will receive a generous reward. Bookmaker specially indicates the most profitable events, so that you will not miss them. All you have to do is go to a special section to see which games will be covered by the cashback.
Registration bonus
Why should you choose promotions from the proven bookmaker 1xBet?
The calendar allows you to see a list of games where you can earn extra money. Every day is a new entertainment. In this way, the bookmaker tries to show its customers the benefits of betting on certain events. The users probably do not understand all of them, but the bonuses are an additional motivation.
Use them, and you can participate in the most profitable games. Promotions have very simple rules. You just need to bet, and part of the invested amount will be credited to an additional account. All this has been automated for a long time, so you are guaranteed to get your money.
In general, the world of cybersports is becoming more and more popular among betting fans. Regular promotions from 1xBet are an opportunity to discover it even better. You'll get to see how the games are structured, and based on that, you'll be able to figure out exactly what you like.
Advantageous bonuses from 1xBet this week
The bookmaker has prepared a number of interesting offers for the coming days. They cover:
STREET FIGHTER. It is possible to predict the victory in a round or the total triumph of one of the parties. The fight lasts about 3 minutes. Predictions are accepted in live. For this game on June, 3 you'll get a 20% cashback
League of Legends. Victory is a nexus drop or an admission of defeat by one of the sides. You can make predictions on the victory of the participants, total of frags. The bookmaker offers a cashback of 10%.
Cyber Lacrosse. The match lasts about half an hour. It is possible to predict the victory of one of the parties, handicaps, totals, double odds. Bookmaker 1xBet will please customers with cashback of 20%.
QUAKE. The task of the players is to destroy the maximum number of opponents. The duration of one round is 5 minutes. You can bet on the winner, the presence/absence of overtime, markets. The cashback for QUAKE is 10%.
STEEP. The winner of the game is the one who scores the most points or manages to go the distance faster than the others. The cashback for STEEP is 10%.
Participate in the promotion and bets on these cyber-sports events will be even more profitable. Every day a new offer is waiting for the clients of 1xBet. Follow the changes and you will be able to earn on a regular basis.
Terms of participation in promotions from bookmaker 1xBet
Only customers of the office can use the calendar of cyber bonuses and get cashback. The promotion, as well as sports betting in general, is only available to adult users. Only real money bets are taken into account. If you use bonuses, the cashback will not be credited. The minimum value of one bet is $2.
Specify a promo code for a profitable game in the office
To make your bets on eSports and other competitions profitable from the first day after registration, specify a promo code when creating a profile. Read here how to get a unique welcome bonus.
Its maximum size can be up to $130. This money will be credited to an additional account. Yes, you can not just withdraw it, but it is easy to convert it into new bets.
To get a starting bonus of up to $130, follow our link. Use the rewards and you won't have to risk your assets.